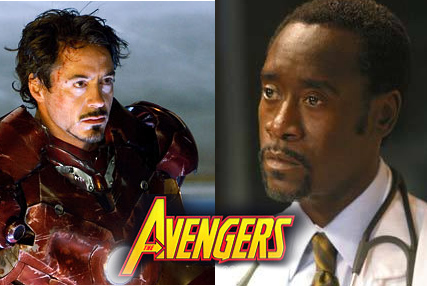 Marvel Entertainment has just announced that Robert Downey Jr and Don Cheadle have signed on for both Iron Man 2 and The Avengers. Iron Man 2 director Jon Favreau will also executive produce The Avengers. As previously reported, Cheadle will be replacing Terrence Howard as Colonel James "Rhodey" Rhodes.
The announcement also comes with the first look at a plot synopsis tease: " "In a movie event, The Avengers will bring together the super hero team of Marvel Comics characters for the first time ever, including Iron Man, Captain America, Thor, the Hulk and more, as they are forced to band together to battle the biggest foe they've ever faced." Who could that be? With Hulk on the listed team line-up, does that mean that the big green guy is out as a possibility?
Iron Man 2 hits theaters on May 7th 2010, and The Avengers hits theaters on July 15th 2011. Check out the full press release
here.